Year 3 22-23
Week 6 Sports Week
What a fantastic week we have had for sporting activities. Year 3 have loved the sporting challenges and have made us very proud of them. We have some amazing talents in the year group.
Week 5
Year 3 have been learning about light and shadows in science this half term. This week, they carried out an investigation to find out how shadows change across the day. They discovered that the shadow moved around the yard in a clockwise direction. The shadow was long in the morning and got shorter across the day between 9am and 2pm.
In Art, they used sponge prints to design their own wrapping paper using repeated patterns.
Week 4
Wow, we have some fantastic artists in Year 3. They used leaves to print their repeated patterns inspired by nature and their artwork was very impressive. On Tuesday, 3JW enjoyed music with Mrs McCartney where they played a range of percussion instruments as well as the recorder and glockenspiel. Also, they have been continuing with the Scratch programme to move their sprite and make their own coding.
Week 3
This week, Year 3 had visitors from the Oriental Museum in Durham to teach them more about the Ancient Egyptians. Pupils enjoyed handling artefacts and working like historians to look at clues to work out what they may have been used for. Using clay, they then made their own Egyptian artefacts and also designed their own Egyptian artwork using hieroglyphics. To end the day, they took part in a drama workshop where a sacred ceremony was carried out to show how the Ancient Egyptians were mummified.
Week 2
In Science this half term, Year 3 are learning about light and shadows. After learning that light travels in straight lines, we investigated how we could see each other round corners by reflecting the light using mirrors. We have also been outside again, enjoying the glorious weather and practising for Sports Day.
Summer 2 Week 1
Year 3 have had great fun outside this week. On Monday, they used coping strategies when they had to complete a scavenger hunt in teams outside. It was so tricky to find something purple! However, they didn't give up and supported each other so well. As teachers, we were so proud of how well they coped.
Then they took part in the colour run. What a mess but so much fun.
Week 5
Great concentration was needed this week when Year 3 faced the challenging task of working out how to play the second line of Twinkle, Twinkle Little Star on a guitar simulation using the computer programme Scratch. Our musical talents were certainly tested and we had to use the glockenspiels to check our answers. We also enjoyed learning a new note on the recorders.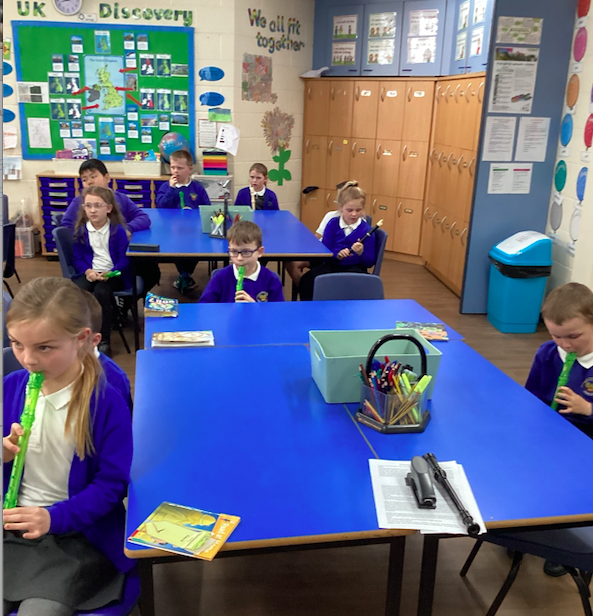 Week 4
After having fun on their trip last week, Year 3 made sculptures of the North East Landmarks and carried out further research. Both staff and children were very competitive and some amazing sculptures were made.
In Science, children dissected flowering plants and learned about pollination. Then they visited the school garden and poly-tunnel where they looked at and named various plants and identified the male and female parts.
Week 3
What an amazing week!
On Thursday, Year 3 pupils enjoyed a mystery trip around the North East, visiting local landmarks that they are learning about in Geography. They were in awe of the size of The Angel of The North and mesmerised by Durham Cathedral and Castle. On Friday, we had fun celebrating The Coronation of King Charles III.


Week 2
Year 3 pupils have had a fantastic week this week. 3AD have had a sports coach in working with them in their PE lesson. Mrs McCartney from Durham Music Service has continued teaching music to the year group, including learning to play the recorder, and is working in 3JW this term. All classes have been learning to sew, which many of them found extremely hard, but we are so proud of how resilient they have been and most have mastered it now. In computing, they have been using the programme Scratch to write their own computer programme.
Year 3 22-23
Summer Term
This week the children enjoyed working together and supporting each other during our Happy Schools Day on Monday, where our theme was Support. Great support and encouragement was offered during our team games.
Then in English this week, pupils worked in small groups to rehearse and perform their favourite performance poem from the ones we studied. Their performances were really impressive and entertained the class.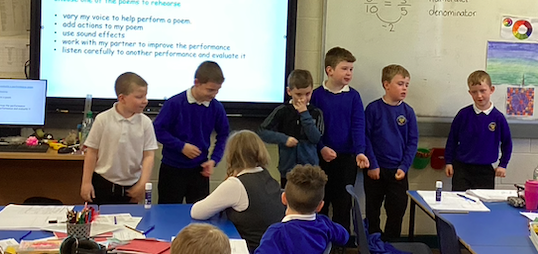 Year 3 22-23
Computing
This week children have enjoyed using the chrome books to create and solve branching databases. They had to create yes and no questions for their partner to use to sort their objects.
Red Nose Day
Today, children in Year 3 dressed in red to celebrate Red Nose Day and completed a range of activities about the charity. As Friday is also our PE day, we also had great fun in cricket this morning too.
Earlier on in the week, 3JW were learning to play the glockenspiel. It proved quite tricky for some of us but we still had great fun and can't wait until the next lesson.
World Book Day
Last week, children in Year 3 celebrated World Book Day by dressing as characters from their favourite books or well-known book characters. Many of the costumes were amazing. They also brought in one of their favourite books to share with their classes. Throughout the day, the children and adults took time to share their favourite books ad discuss them.
Happy Schools Day
We have also been learning about positive relationships and how important these are within our lives. We discussed all of the people we have a good relationship with and how we build and maintain these relationships and friendships. One of the tasks we did during the day was working together as a team, encouraging and supporting each other to accomplish a tricky challenge. We had great fun and were all successful.
Children's Mental Health Week
This week 6.2.23, was Mental Health Week and Year 3 have been exploring ways we can improve our mental health. These strategies included: relaxation techniques, breathing exercises, yoga, getting out and having some fresh air and general movement of the body, as well as calming mindful colouring and relaxing music. Many of these things help us feel more relaxed and ready to learn. We talked about how and when these could help us and when to use them. We really enjoyed the yoga.
| | |
| --- | --- |
| | |
| | |
This week, Year 3 continued their work on the choreography of their 'Clock' dance routine. They have worked together in unison as a class to build and perform the chorus of the routine and are now working in small groups to develop daily routine dance sequences which will be added to the whole class routine.
In their second PE session, work continues on their gymnastic routines where teamwork is important. In small groups, the children need to perform a short sequence and have worked on more complicated balances this week.
Year 3 22-23