Year 2 23-24
Science - Everyday Materials
Throughout this half term, we have been exploring different materials and their properties. We have conducted experiments into which materials are strong, which are stretchy, and which are waterproof.
Geography - My World
Our curriculum topic for this half term is, "My World". The whole year group had a go at some orienteering to find clues on what our new topic would be. Our clues led us to the school field where we found a message in a bottle. It was actually an old map!
Throughout the half term, we are going to look at the different continents and oceans in the world. We are very excited to find out more!
Music Lessons
This term, 2PCNA are learning to play the recorder! Each week, we learn some new vocabulary and practise our skills. We have been learning to play different notes and follow along with some pieces of music.
Locomotion Museum Trip
Year 2 have had an amazing day visiting the Locomotion Museum in Shildon. As we have been learning about George Stephenson, and why he was so significant to our local area, it was the perfect time to find out more about his legacy.
Everyone was so excited to finally see "The Rocket" in person and learn more about why this was such an important invention. The whole year group wowed the lovely staff at the museum with their knowledge and asked some brilliant, thoughtful questions.
We were able to have a look at how locomotion has evolved over the years and even had a sneak peak of one of the historical engines!
The whole year group did the school incredibly proud and came home with even more knowledge on George Stephenson. Well done, Year 2!
Cookery with Sarah
It is 2KR's turn to learn some new cookery skills! After learning about health and safety first, the children have been cooking up a storm and trying some new foods. First up was fruit salad! Everyone tried some new fruits such as pineapple and melon. Then they created some delicious and unique smoothies to try. We are looking forward to what comes next!
Boxercise!
This week, we have had the pleasure of participating in a Boxercise taster session! Gary from the SSP came in to teach us some moves and techniques we would need to do Boxercise safely.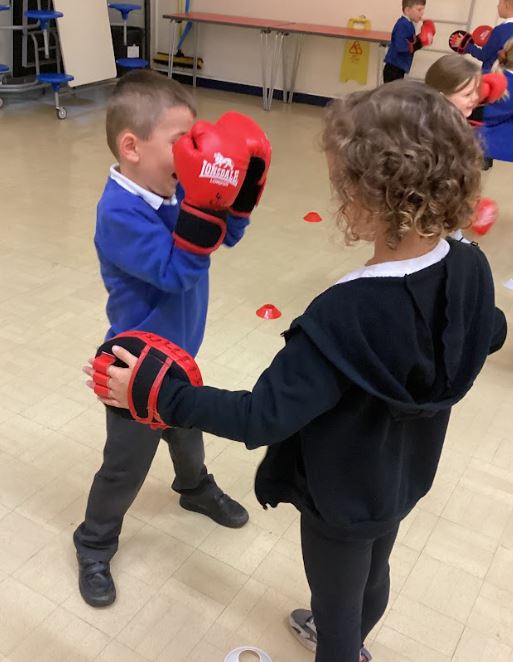 Art - William Morris
We have been thoroughly enjoying looking at our key artist of the half term, William Morris. After evaluating his artwork, we have started exploring a range of mediums we can create our own printing with.
First, we looked at the rubbing technique. We gathered leaves from around school and used crayons to uncover their unique patterns.
Then, we used the relief technique. We drew a pattern into our styrofoam and covered them in paint. When the paper was pressed on top, it revealed our designs!
Next, we are going to look at the string technique... stay tuned for more artwork!
Cookery with Sarah
Mr Wilson's class have started their cookery sessions with Sarah this half term! The first lesson was all about food safety. Then, each week the class are able to make a new dish and learn some new skills. They have made a range of dishes including smoothies and pasta!
Super Scientists!
This half term, Year 2 have started looking at "Super Scientists"! We will be researching a range of scientists and conducting experiments in light of their contributions to science. Take a sneak peek at the experiments we have completed up to now.