Year 1 22-23
Sport week
After a week of sport year 1 are super tired! We have taken part in sports day, dancing, hoopstarz, skipping and a summer run! We have learned so many new skills this week and have all tried our best! Teachers who taught us these fantastic workshops have commented on our lovely manners, respectful listening and our participation. We really are super stars getting ready for year 2!
Art - Final piece
After working really hard on our art skills this term we put our skills to the test and we recreated an art piece inspired by Kandinsky. We had so much fun using different colours and creating different sized circles with the thick and thin paint brushes. We took our time and really focused on ensuring our artwork was beautiful.
Art
We have been exploring our painting skills this term and have looked at the primary and secondary colours. We are fantastic at mixing the primary colours to make secondary colours. This week we have looked carefully at what size paint brush we would need to use on certain parts of the picture. We used thick and thin brushes carefully.
Computing
This term Year 1 are exploring the app ScratchJr, the children have loved playing around with backgrounds and characters. They have been programming the 'blocks' to make an algorithm. Their challenge was to get the cat from one object to another!
Athletics
This week we have been testing the children's athletics skills. The children took part in a 50m and 200m race, howler throw and standing broad jump. The children loved being on the field and we definitely saw a competitive side to them!

Seaham beach
This week we had the most fantastic trip to Seaham beach! We had so much fun from the minute we left school! We spent lots of time playing in the sand and enjoyed our scavenger hunt, finding Human and Physical features around us. Our day got even better when we visited nicey icey for a delicious ice cream.
Toy cars
This week we had the opportunity to bring our toy car designs to life. We used lots of different junk materials, including the bottle top lids we had collected, to make our master pieces. We had so much fun making them!
DT
This week in DT we have designed our own toy cars. We have discussed lots of different materials we could use to make our wheels, chassis and axles, we had some great ideas and our designs are FANTASTIC! Look out for our final creations next week.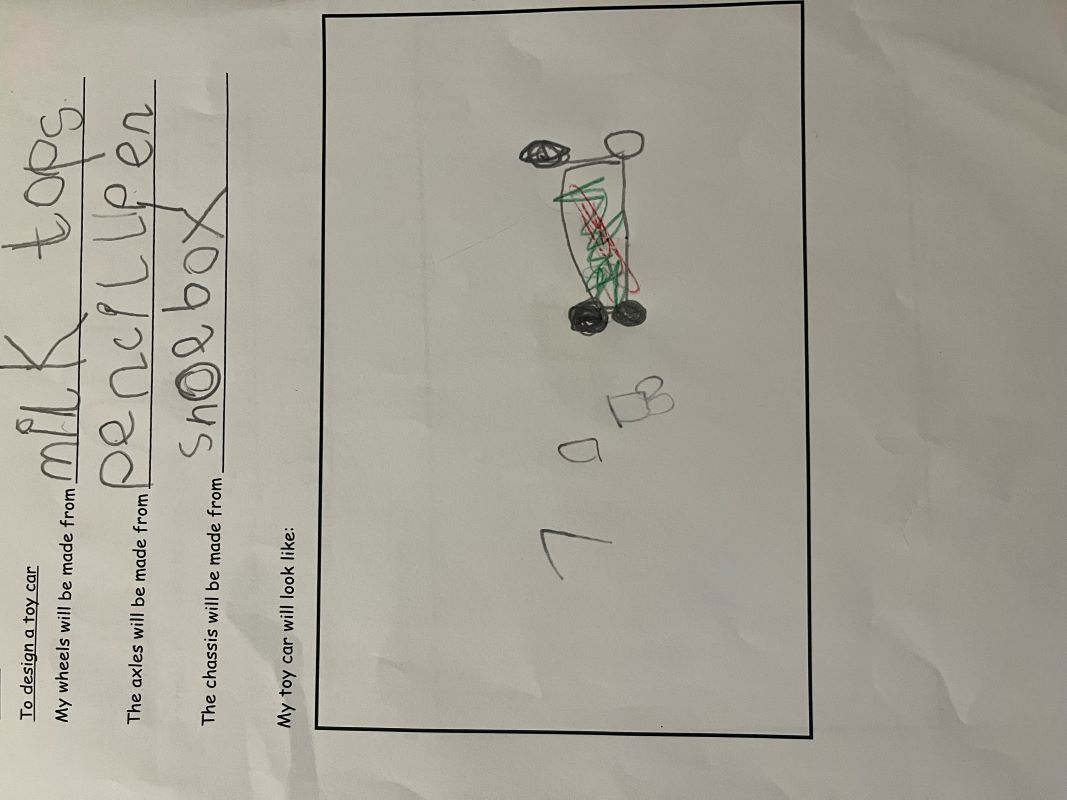 King Charles III Coronation
Today we all wore red, white and blue to celebrate King Charles III Coronation at the weekend. We read a story from Little People, Big Dreams about King Charles' life. We really enjoyed learning about our new King and couldn't believe he became heir to the throne at age 3! We had a delicious afternoon tea and spent all afternoon making crowns and crafts.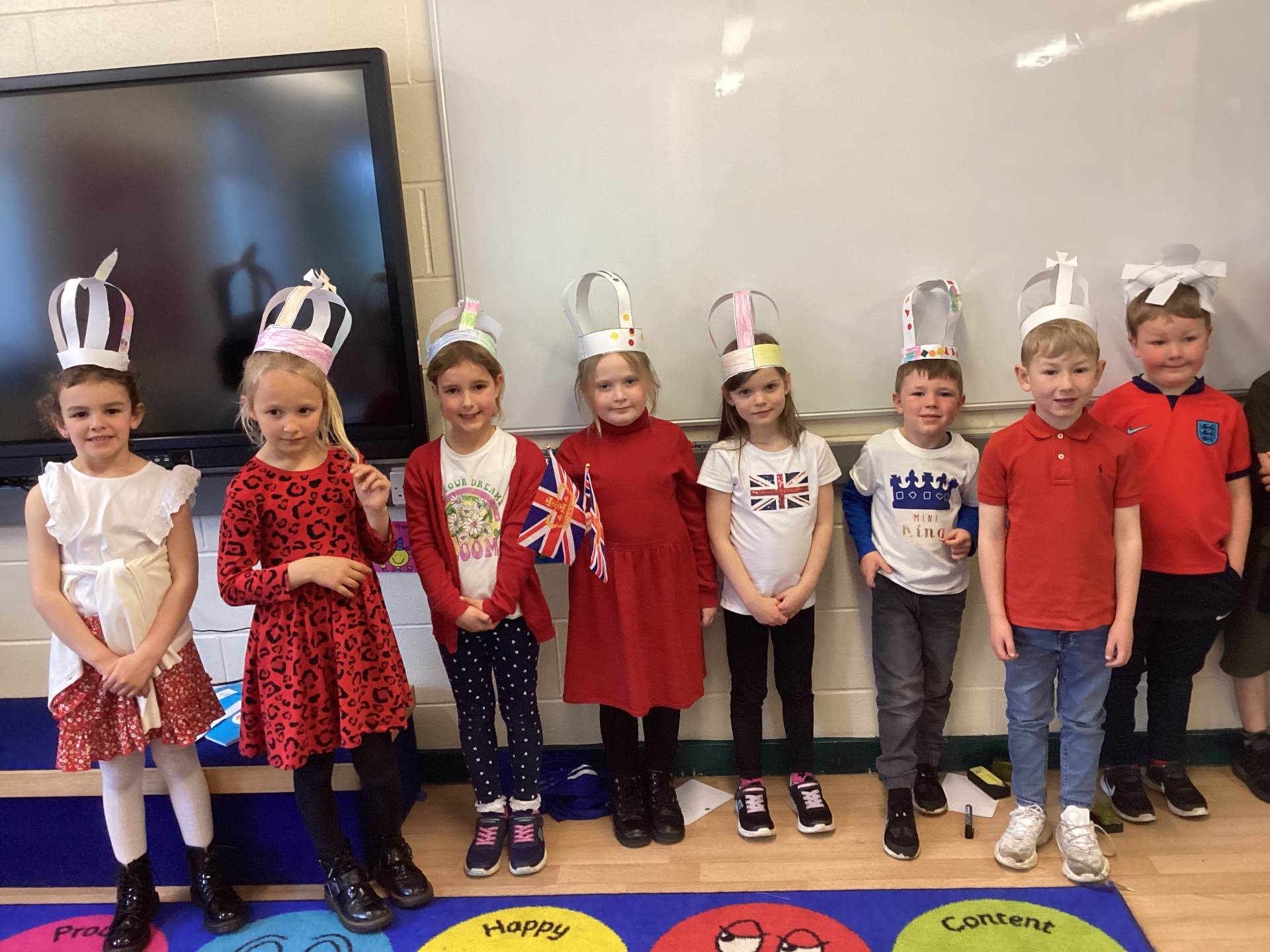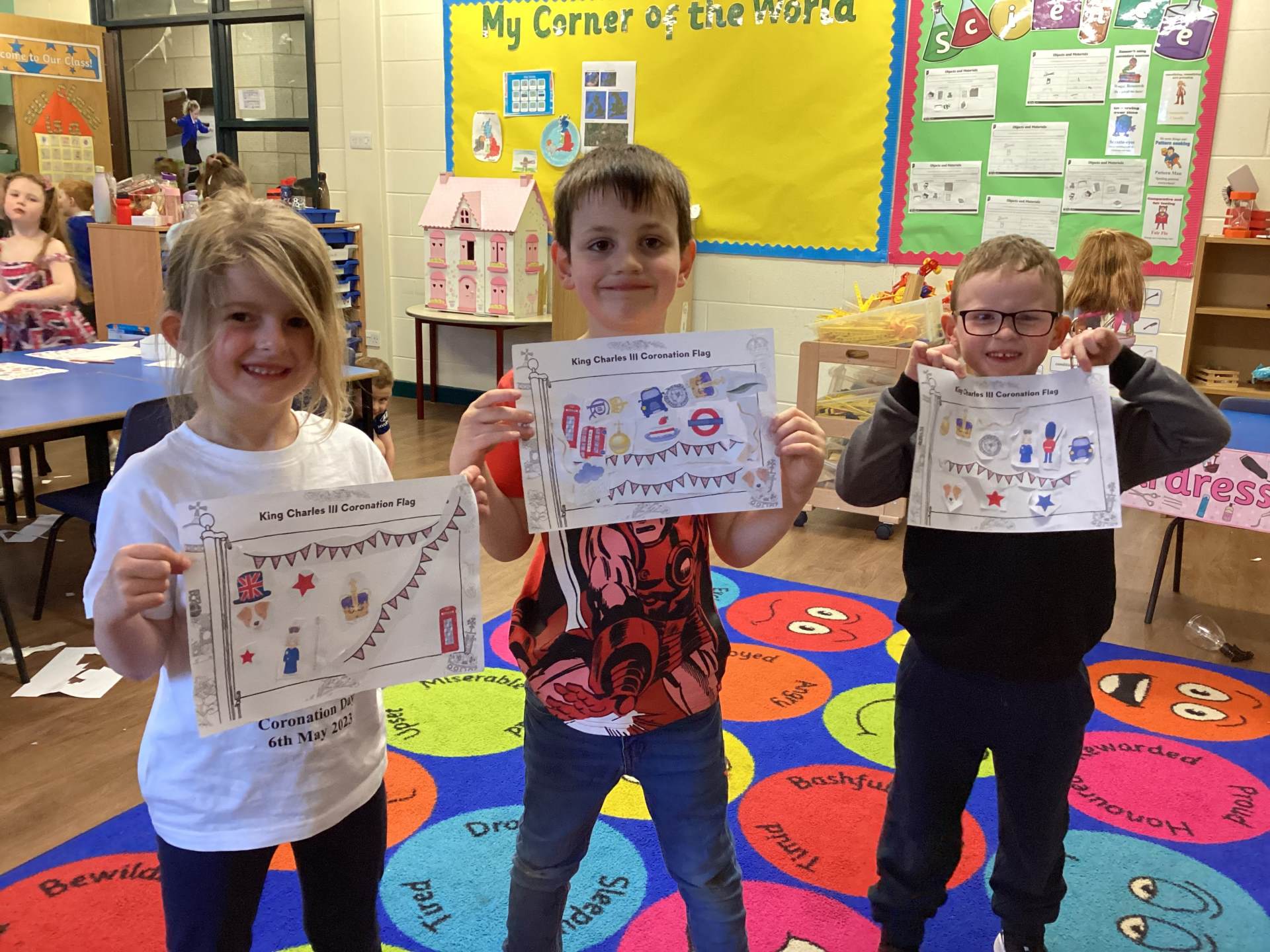 Computing
This term in computing we are learning about instructions. We have been having lots of fun exploring this topic using the Beebots in school. This week we had to recall instructions as well as follow instructions. We really enjoyed making up instructions for our partner to remember.

Geography
This week in Geography we did some orienteering work. We used a map of the school grounds to find pieces of a map outside. We came back into the class and put the pieces together in groups to realise this was a map of Easington. We are looking forward to learning about 'My corner of the world'.
Art
This term in art we have been looking at sculptures. We have focused on human sculptures, looking at 1101 (Tommy the soldier) and have been learning all about the techniques that are used to build them. We designed and made our own human sculptures from clay, we really enjoyed making them and using the new techniques we have learned (rolling, coiling and cutting).
Music
This term we have been lucky enough to have Mrs McCartney come and teach us music! We have enjoyed lots of games that have helped us practice our listening skills and our singing skills. We have LOVED our music lessons and enjoyed using a variety of instruments every week.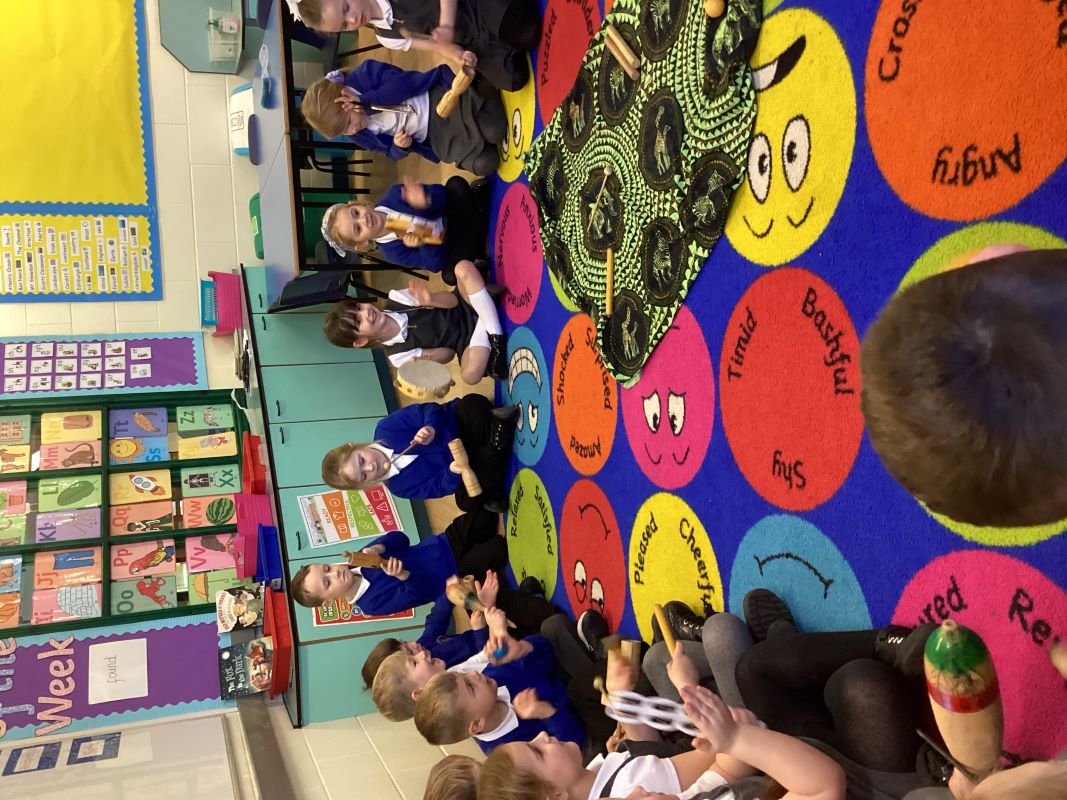 Red Nose Day
This Friday we came to school dressed in red to show our support for Red Nose Day. We brought a donation into school to raise money for Comic Relief. We took part in activities and even designed our own Red Nose!
Forest School
This week in Forest School Year 1 went on a scavenger hunt! We used our team work skills to find ten different items including, something fuzzy, straight, round, rough, smooth, something that could make a noise, a pine cone, something beautiful and two different kinds of leaves. We had lots of fun but as you can see, we had to wrap up warm because it was very cold.
World Book Day
This Thursday in school we celebrated World Book Day. We came dressed as our favourite book character and spent the afternoon doing World Book Day activities. Earlier in the year we celebrated We Love Reading Week and our focused author was Floella Benjamin. This Thursday we watched an episode of Playschool and chose our favourite character to draw.
Random Acts of Kindness Day
This Friday in school we have celebrated Random Acts of Kindness Day and Place 2 Be. We ran a mile (including staff!) around the yard to help Mrs Bolton raise money for Place 2 Be. We discussed what amazing work this charity does for our school and how they can help us. We celebrated the day being kind to each other and each class created a kindness flower.
Children's Mental Health Week
This week in school we have been looking at positive strategies to help our mental health. These strategies have helped us to feel relaxed and we talked about when we could use these. Daniella came in to share a story with us all about feelings and brought her friend Rory. We gave Rory advice on how to be a good friend which would improve his mental health.
Forest School
This week, year 1 had a very exciting forest schools session. We made dens as if we were surviving in the wild and even helped our animal friends by building them some homes too! Caretaker John had told us he had seen a pheasant - unfortunately it must have been a little bit frightened to come and see us. We did think it may have been nibbling at the seats in the fire circle!
Animal visitor
This week, year 1 had some exciting visitors - live animals! Fluffy the spider, Chunk the frog and Ben the snail loved meeting our Y1 pupils.