Nursery 23-24
Christmas is coming!
On Monday, we received a very, very exciting delivery. In our groups, we used the clues from our teacher to figure out what was in the box... it was a Christmas tree!
We worked as a team to put the Christmas tree together and open up the branches, while sharing describing words about what it looked, felt, sounded and smelt like.
Once the tree looked tall and bushy, we helped our adults add the twinkling Christmas lights. After that, one-by-one, we added the baubles and decorations, before the final step - the star.
We enjoyed comparing the nursery Christmas tree to Christmas trees that we have in our houses or ones we have seen in the local area.
Wow! We are so pleased with our nursery Christmas tree and all the decorations around our nursery. The Christmas spirit is high and we are excited for the month ahead.
An Unexpected Visitor...
We had a 'spikey', 'exciting', 'shy', 'nervous' visitor in our nursery garden...
We were so excited to see the young hedgehog at our window during our group time, and then again right at our feet in the nursery garden. We enjoyed looking at the hedgehog, while making sure we didn't scare it.
We really wanted to touch his spikey spines but we had a chat about why it was important to never touch an animal or get too close, unless an adult has told us it is safe to do so. We wondered what a hedgehog might feel like so we made our own, using salt dough, paints and leaves we collected. Our fine motor skills and the vocabulary we shared really impressed our adults!
We read Roly the Hedgehog to help us understand what hedgehogs need to feel safe and happy. This inspired some of us to create 'warm homes' for our nursery visitor around the garden and to put out small dishes from the mud kitchen to help collect rain water for it to drink.
Colours!
We have thoroughly enjoyed our book of the week - Brown Bear, Brown Bear What Do You See?
We started the week listening and actively engaging with the story, however quickly moved to retelling the story independently or with our nursery friends using the book or story stones.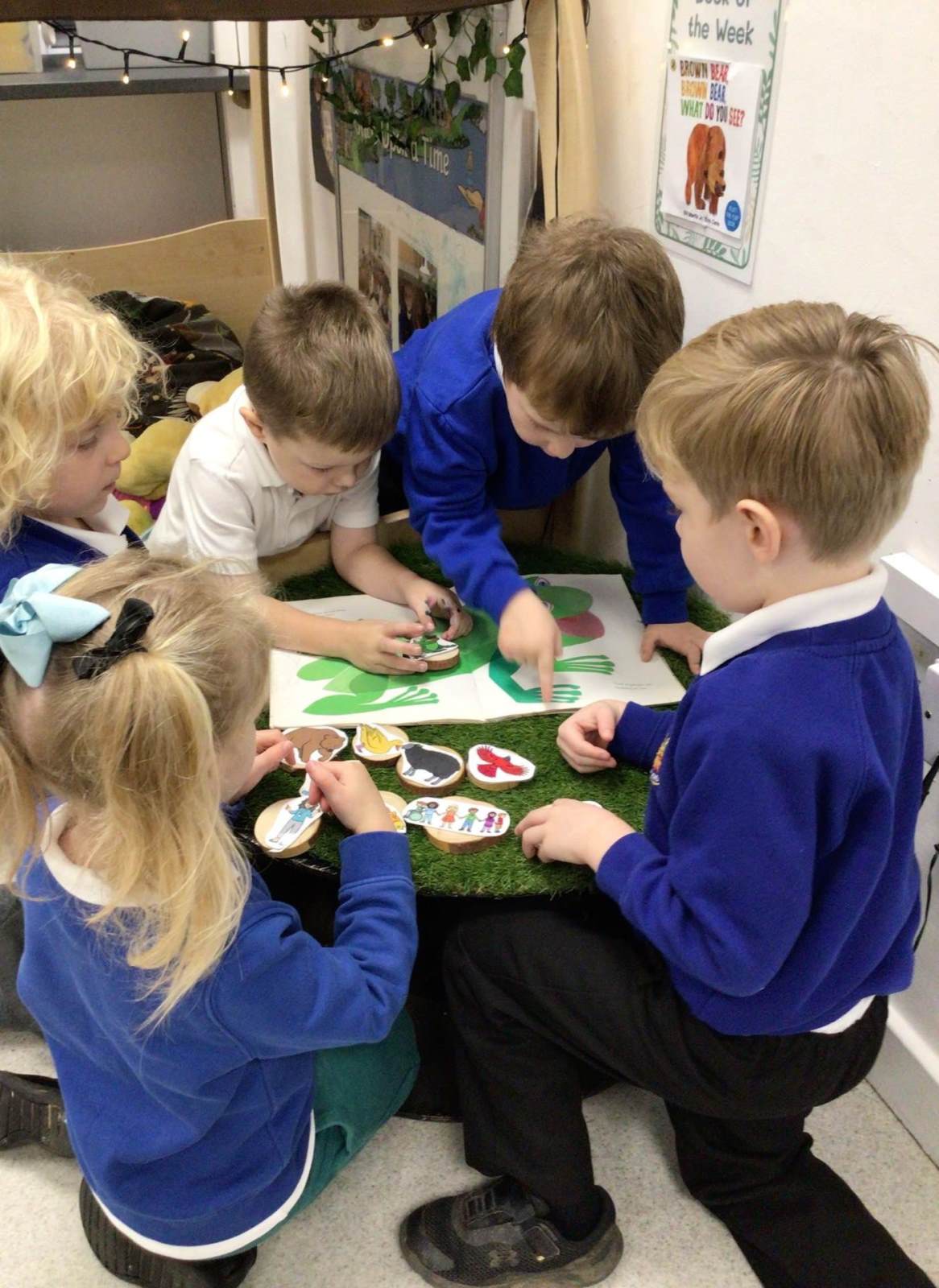 Throughout the week, we have developed and secured our colour knowledge. We have participated in a colour hunt around our nursery, identified the odd one out, matched colours and explored mixing colours using a range of media.
Our adults are so impressed with our colour recognition. We will continue to develop this in nursery and it would be great to keep up the practice at home.
Friday: Children in Need!
We ended the week celebrating 'Pudsey day'. We enjoyed dressing up and showing off our Pudsey, spotty and yellow clothes.
Throughout the day, we enjoyed lots of activities around our nursery from mark-making to decorating our own SPOTacular biscuits to enjoy at snack time. We impressed our adults with our turn taking, encouragement and precision when decorating the biscuits... not to mention our beautiful manners!
Understanding The World!
During half term, we collected Autumn treasures with our adults. Back in nursery, we took turns sharing what we had found. We discussed where conkers came from, how the leaves change from green to brown and yellow, and what happens to a seed.
We investigated the Autumn gems using our five senses. We explored, compared and discussed each item. We were so shocked how spikey the conker shell felt.
The spikey conker shell inspired us to get creative! Together, we completed a hedgehog using the leaves from our outdoor walk. We enjoyed using the glue sticks and working as a team to complete the art.
Happy Halloween!
What a spooktacular week to end a spectacular half term!
For Halloween, we have been busy in nursery exploring and decorating pumpkins, making pumpkin soup, investigating the sensory trays, enjoying Halloween nursery rhymes and stories and decorating our nursery with our mark-making and colouring.
We had a FANGtastic Halloween party and enjoyed dressing up, dancing, having fun and eating delicious snacks.
Black History Month
On Tuesday, we discussed what it means to be an artist. We were introduced to the artist Alma Thomas and discussed her artwork - our likes, dislikes, how it made us feel and what it made us think of. We then created our own art work inspired by her style.
We made our teachers extremely proud with our fine motor skills, our use of the glue and the work we produced.
AHOY there!
After showing an interest in treasure maps, we explored what a pirate is and what it might be like to be a pirate. Whilst doing so, we made our adults extremely proud with our communication and language skills, fine and gross motor skills, curiosity and role play.
We dug for treasure using our hands, fingers and tweezers. As well as that, we enjoyed playing with the small world pirate figures with our peers and we loved the pirate ship!
We caught fish in the sea, whilst trying to avoid catching the seaweed. We also enjoyed filling, emptying, pouring, filling and mixing the sea water.
We listened to the sounds of the sea using shells. We enjoyed sharing our experiences of the beach, sea and water with our peers and teachers.
We created treasure maps and followed existing one - enjoying role play with our peers. We enjoyed mark-making so much that we began to independently draw some of the pirate items that we had engaged with in the nursery.
Exploring Our Emotions
This week, in line with World Mental Health Day, we have been learning about emotions. We have enjoyed stories about feelings, writing and drawing what makes us feel happy, and circle time discussions.
As we have been enjoying collecting crunchy leaves, fallen sticks and conkers from our nursery garden, we decided to make nature faces to help us explore how feelings might look on our faces. We really enjoyed pulling the faces after and comparing how they look.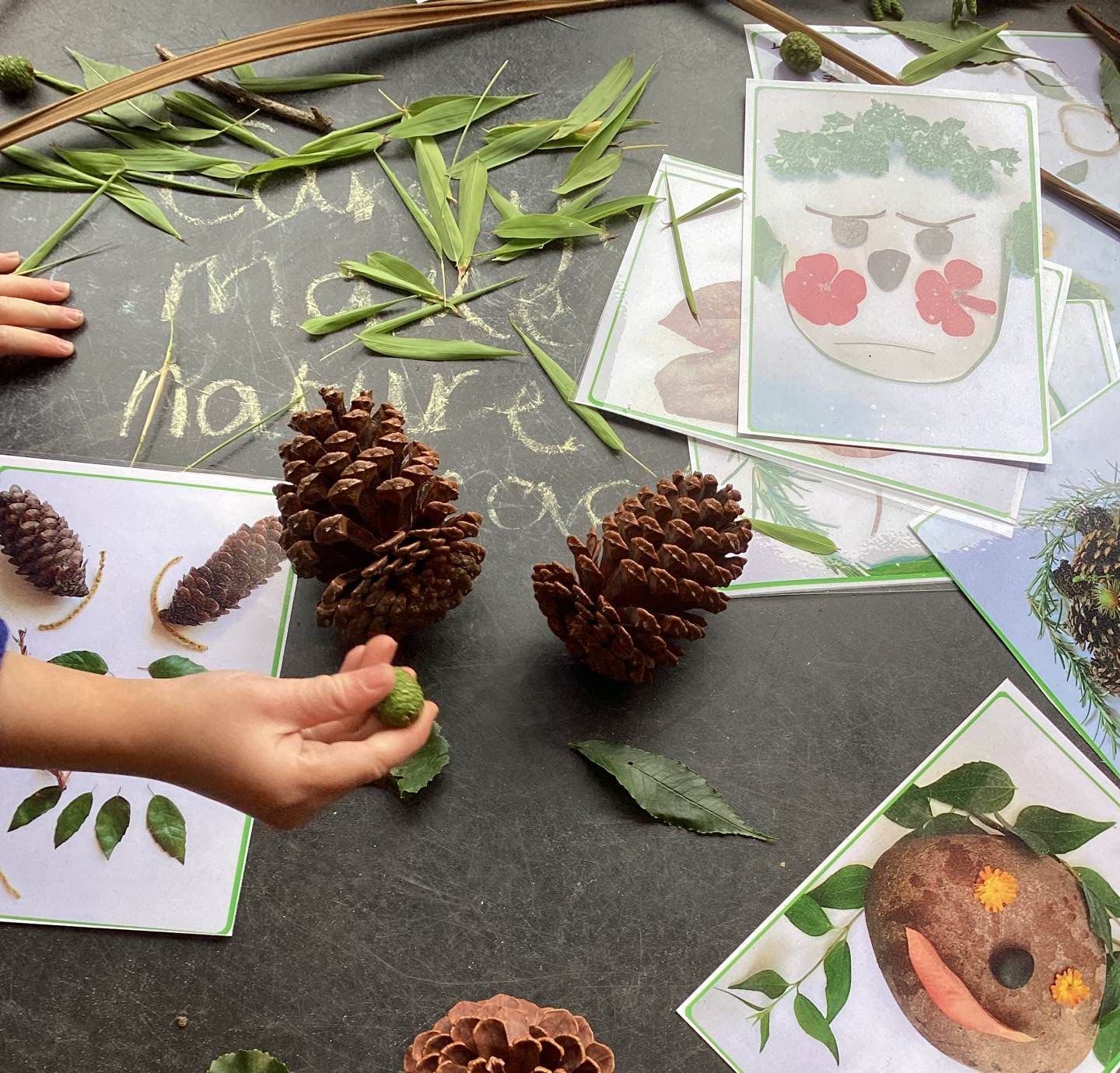 Making Music
This week, we have been enjoying making music in nursery. We have continued to develop our understanding of loud, quiet, fast and slow. We have been playing musical instruments while singing our song of the week - Incy Wincy Spider.
Dance With Me
After a fantastic week in nursery exploring, building, mark making and more, we ended the week with Dance With Me. We enjoyed listening to the music, dancing to the beat and moving the glow sticks. It was great fun!
Nursery - Mini Beasts
After finding a snail and caterpillar, who we named Colin, we became very excited about the animals we might see in our nursery garden. This led to an extremely exciting mini beast hunt using spades, rakes, gardening gloves and our hands. We found and discussed their features and began to identify the mini beasts by name.
We are looking forward to a visit from the pet snail in Reception in the near future.